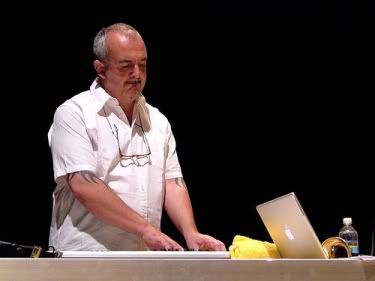 Sleazy has passed on from this plane of existence. R.I.P. you crazy noisy bastard. You have been a huge source of inspiration during your lifetime, and will continue to be with everything you've left behind.

From Ology.com:

Music fans everywhere were saddened to hear that influential graphic designer and industrial musician Peter "Sleazy" Christopherson passed away in his sleep last night. He was 55 years old. Born in Leeds, England, Sleazy came to commercial prominence in the '70s as part of the graphic design collective Hipgnosis, creating some of the most iconic album covers of the decade, including Pink Floyd's Wish You Were Here and Peter Gabriel's first three self-titled records. Formed in 1975, the experimental rock group Throbbing Gristle (featuring Sleazy on tape loops, found sounds, and other odd assortments) were one of the earliest influences on industrial and post-punk music of the early to late '80s.

Fellow Throbbing Gristle band mates Cosey Fanni Tutti and Chris Carter tweeted the news early Thanksgiving morning: "Our dearest beautiful Sleazy left this mortal coil as he slept in peace last night.words cannot express our grief." Nine Inch Nails founder Trent Reznor tweeted a quick remembrance: "I awake to sad news. RIP Peter Christopherson - friend and huge inspiration."

Christopherson was also a member of Psychic TV, Coil, and had recently reunited with Throbbing Gristle for a show at London's Village Underground. In addition to his design and music work, he was also a noted music video director, shooting iconic videos for Ministry, Nine Inch Nails, Rage Against The Machine, Erasure, Van Halen, and numerous others. A true rock & roll renaissance man, he will be sorely missed by all of his countless fans, collaborators, friends, and family.