The Electronic Saviors compilation gave nearly $25,000 in total donations to an organization last weekend that calls itself The Foundation for Cancer Research and Wellness. A substantial amount of money that many organizations, big or small, would be extremely grateful to receive. Mom would have been very proud, and we wish she could have held on long enough to see the end result of what everyone worked so hard for and supported over the last year.

Originally we were concerned that this organization was too small and just starting out with no track record. Wouldn't we want to go with a huge organization that has plenty of overhead and already receiving money from a variety of sources? But then we discovered that The Foundation for Cancer Research and Wellness is actually one of many child organizations run by Greg Anderson, all stemming from one of his very large organizations known as The Cancer Recovery Foundation of America. Last year the Cancer Recovery Foundation of America raked in over $30,000,000 as reported on their IRS 990 forms for 2007/2008. Those forms also show that Greg Anderson pocketed nearly $150,000 from those earnings as his personal salary for 2008, just from that org alone. This means we are supporting a big inefficient foundation by proxy. What a relief! The Cancer Recovery Foundation of America also has a "F" quality rating with the AIP, is known for their telemarketing and cold calling to convince people to contribute money, and a quick Google search of their name along with the word "scam" brings up a lot of results. But nobody is perfect right? We are part of something BIG now, and that is the important thing.




Many small non-profit organizations have ties to religion or get funded through churches, as do many Hospitals and Hospices. Most of them offer free information, counseling, and support to people with terminal diseases. Mom was grateful for this to some extent. She was not a religious person, but she was a spiritual person and during her life studied many different spiritual paths, from the occult, to organized religion. She believed in a higher power, and forged her own belief system. She took some comfort where she felt she needed it from these services.

But looking back, we can't help but wonder just how good were these services she was being offered or received? They were FREE after all, being offered by volunteers. There is no way they can compare to services Greg Anderson, the founder of The Foundation for Cancer Research and Wellness, and his library of moderately priced books on the power of faith, and his "Bible Survival kits" can offer. We also doubt not all of those services she received were deeply connected with The United Methodist Church as Michael Gingerich, the Foundations Co-Founder is, being an ordained Elder and has served in congregations for over 20 years. A church that does not believe in Homosexuality and states "The United Methodist Church does not condone the practice of Homosexuality and considers this practice incompatible with Christian teaching". They also make it clear that "Ceremonies that celebrate homosexual unions shall not be conducted by our ministers and shall not be conducted in our churches".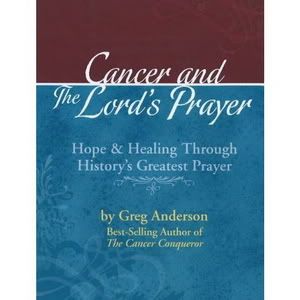 If only mom would have known about The Foundation for Cancer Research and Wellness sooner, she could have bought the $25 Hope Rocks they offer (shipping included), followed their "Wellness Pyramid", obtained the Bible Study and Survival Kits, and taken her daily dose of 5,000 IU of Vitamin D the foundation recommends for people with cancer, maybe she'd still be here today?




Maybe if she would have read Greg Anderson's illuminating non-medical, faith healing based advice that he provides on his "Ask Greg FAQ" section of the Foundations website, she could have had more time on this Earth. For example, we especially love the part where he says "A doctor doesn't know... they have just rendered a medical opinion but it is not an informed opinion... If you don't expect things to get better, then nothing will get better. God has promised to meet us at our level of expectancy. That's what Jesus is telling us in Matthew 9:29 when he boldly states, "According to your faith be it done unto you." One translation states it very succinctly: "Have what your faith expects." to a woman asking how long she can expect her husband to live after being diagnosed with Stage 3B Non Small Cell Cancer in his lungs. Obviously since having faith worked him, it must work for everyone. Clearly mom should have just ignored the nonsense her doctors said, telling her she had only weeks to live, and kept on going as if she had all the time in the world instead of making preparations or trying to come to terms with her mortality. If only she would have had more faith in God, and EXPECTED more life, maybe God would have given it to her? According to your faith be it done unto you... so profound.




If only more cancer research was focused on the "study communication between medical professionals and patients, in an effort to provide transformational change" as the Foundation describes the type of "research" they put their resources toward. Good to know the funds generated from "Electronic Saviors - Industrial Music to Fight Cancer" is really going to "Fight Cancer" by trying to implement more faith based initiatives within the doctor/patient relationship. Wouldn't want to think all of the hard work and dedication and support everyone put into it would be a wasted effort and not actually "fighting" anything. This is just what everyone was hoping for! Another compilation who's proceeds are going to work AGAINST modern medicine and the evil establishment that just wants to repress our minds, souls, and bodies from behind the mask of "medical advancement" and "scientific research".

To hell with trying to improve older known methods of treatment such as Hormone, Radiation, and Chemo Therapies. Or newer technologies such as Stem Cell Research, Gene Therapy, Immunotherapy, Biotechnology. Or unpatented but optimistic experimental methods like Dichloroacetic treatment, the hundreds of alternative medicine approaches being discovered, or even the study and push for medicinal Marijuana to be legalized and researched within the United States.

To hell with small independent non-profit startup organizations, for example: "Building Resources In Cancer Knowledge & Services", aka BRICKS for Young Adults, located right here in Pittsburgh, the same city that Electronic Saviors was conceived. An organization aimed at providing cancer patients with support and guidance to resources, as well as raising awareness and public education about cancer. Founded last year by an amazingly creative woman named Charissa after her husband Rick passed away from Hodgkin's Lymphoma.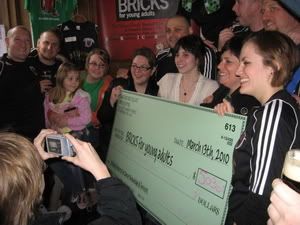 Yes indeed, we sure are glad knowing the $25,000 total of Electronic Saviors funds went to The Foundation for Cancer Research and Wellness where it won't be utilized to fund any of those above initiatives. A foundation that is not a member of the AIP, American Institute of Philanthropy. A foundation that didn't even exist last year, or has any track record showing their accomplishments or goals. A foundation that had no information on their website when it was announced as being the receiver of the Electronic Saviors funds for anyone to get any facts explaining what they are all about. A foundation that has no doctors, scientists, or medical staff, but is willing to give phone support on "wellness". A foundation who has a Facebook page offering life saving advice such as "Fluid – pure water - must be continually replaced in appropriate quantities for you to be optimally well"... who knew water was so important to human health and wellness? Without our help, they would probably have never made that groundbreaking discovery.

Every charity watchdog website out there warns about organizations that try to play the "Sympathy Card". They say legit organizations typically don't need to do so because they will willingly share the facts about what they do instead of trying to distract you with guilt. They say it is a "red flag". But we know for certain that Michael Gingerich the ordained Elder was certainly not trying to play that card when he responded to our basic questions about their research:

What types of research does your organization conduct?
What are the names of some of the doctors in your organization, and where can we find some of their research?
Does your organization plan to become a member of the AIP?
Why does the foundation only offer books written by Greg Anderson, the Founder of the organization, ignoring all of the other resources out there?
What type of research data can you provide that your claims of Vitamin D helps fight cancer?
What are some of the accomplishments you have achieved this year?
What are some of your long and short term goals?
What percentage of your donations are spent on administration and fund raising expenses?
Can you provide any documentation concerning that percentage rate?
Can you share with us your IRS 990 form?

...with this answer; "All of us here at Foundation for Cancer Research & Wellness were deeply saddened and hurt to learn that our programs, services, mission, values and motives have been called into question by some of the contributors to the Electronic Saviors: Industrial Music to Cure Cancer compilation. Following the visit of many contributors to Harrisburg this past weekend, we were feeling very excited and inspired by our interactions and budding relationship. You can imagine how surprised we were to learn that some have concerns about the legitimacy of our work..." Clearly he is a sensitive guy, and we hurt his feelings when we expressed some concerns about what that $25,000 would be used for.

He was even kind enough to email us some wonderfully vague information sheets to help reassure anyone who is concerned about their lack of any actual medical research. We took it upon ourselves to convert them to PDF's and upload for all to absorb while enjoying the warm feelings of accomplishment and success we must all be experiencing:

FCRW-Current-Programs.pdf
FCRW-Current-Supporters.pdf
FCRW-FAQs.pdf

Merry Christmas everyone.